Vegetation management is a crucial component of any construction project. At Millborn, we've developed a tailored approach to making seed selection and vegetation management easy-peasy. We offer full-service or customized support, so you can be as involved or as hands-off as you want.
Tailored support
Some of our vegetation management services include:
Pre-construction planning
Seed mix design
Site preparation + planning consult
Temporary or long-term seed mixes available for all project stages
Installation support + contractor vetting
Seed mixing + prompt delivery to site
Technical on-site support
Ongoing support following installation
And our offering is always growing! If you need support with your project, reach out to our experts for a consult.
Define your goals
Once you're in touch with one of our seed experts, they'll work with you understand your project's goals. Here's some topics we'll work through to help you find the best seed mix for your project:
Resource availability
Vegetation goals, requirements, and restrictions
Project timeline
Type of equipment available and/or planned
Soil types and geographic location of project
Budget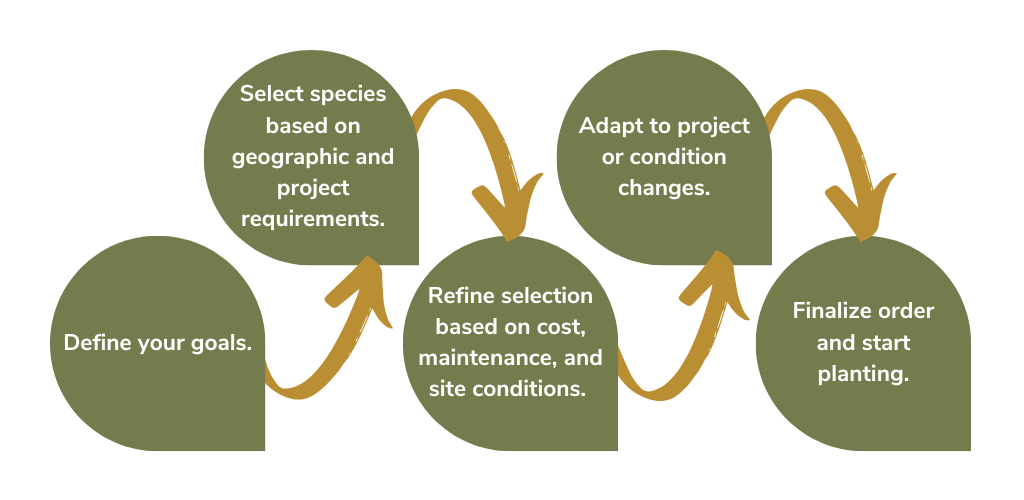 This discussion will help us determine if one of our standard mixes is the right fit for you, or if you'd be better served with a custom mix tailored to your project.
Standard mixes
The Pollinator and Buffer Mix has 40 native species of legumes, native forbs and grasses that will be aesthetically pleasing for your project. We're sure to include species with different structures, heights, and blooming periods to enhance pollinator benefit year-round.
If you need a quick cover while the project is moving, temporary cover offers erosion protection and builds soil structure. It'll flower within 40 days of planting, quickly improving your site's appearance and chances for a successful perennial stand.
Grub hub is low maintenance, short in stature good for grazing, and a great food source for pollinators. It's long-lived and will provide beautiful scenery on your project site for years to come.
If you plan to maintain your site's vegetation through mowing, panel mower is perfect for your project. The annual ryegrass will establish quickly, and a blend of fine fescue and crested wheatgrass will grow on even the harshest soil conditions and driest of years.
Customized mixes
If our standard seed mixes don't meet your needs, we can whip up a custom mix at the drop of a hat. Our seed experts will take your project specs and map out the perfect mix, and our logistics team can have it mixed and shipped to your site in no time.
Let's get planting
Once the perfect mix is chosen for your project, we will finalize your order and start mixing! We deliver about 100 million pounds of vegetation management seed annually, and our vegetation experts have created over 6,000 unique seed mixes to fit individual project specs. Safe to say, you're in good hands with Millborn vegetation management.
Ready to get started? Get in touch today.