Wildflowers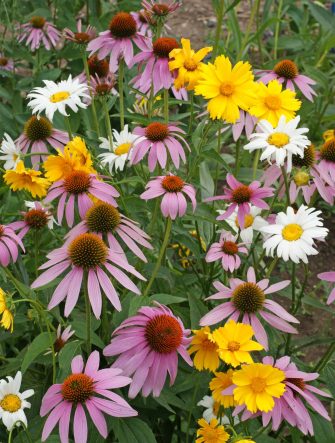 With the declining population of pollinators, the use of native wildflowers is becoming extremely important. When designing a pollinator friendly wildflower mix, keep below points in mind:
Choose a variety of colors and shapes to attract a diversity of pollinators. Provide pollen and nectar sources from early spring to late fall. There should be at least 3 flowering species blooming per season. Choose plants that meet your growing conditions.
Check out our pre-built, proven to work native seed mixes for all your pollinator and wildflower needs.
Native Species
Wildflower FAQ
Spring: Both warm and cool-season wildflowers can be planted in the spring. At a minimum, the soil temperatures should be 50 degrees.
Early Summer: To ensure proper seedling vigor we recommend seeding wildflowers by June 15th so the wildflowers can establish before winter.
Dormant: Both warm and cool-season wildflowers can be dormant seeded. Soil temperatures need to be at or below 40 degrees.
Seeding rates will vary depending upon the mix. Please refer to each mix for accurate seeding rate information.
Broadcasting is an acceptable seeding method for small to medium size projects. You can broadcast seed evenly either by hand or by use of a hand-held or walk-behind spinner spreader. Rake the seed in lightly, covering seeds to a maximum depth of 1/8 – 1/4 inch.
Drilling: For larger areas, drills that are capable of seeding native grasses are a great option.
Our mixes are designed with the proper rates and ratios to provide season-long blooming for cool and warm-season flowering.
Weed control is the most difficult problem when establishing wildflowers. Weed seeds are present in many situations and lie dormant, but viable for long periods of time. Most areas converted to wildflowers will have a fair amount of weed seeds in the soil ready to germinate when conditions are favorable.
During the first year, we recommend 2-3 clippings at a height of no less than 6-8 inches. Minimizing the amount of litter left is important so seedlings can have full sunlight and a chance to compete with annual weeds. Clipping the annual weeds a few times will also keep them from producing seed heads and going to seed in the future.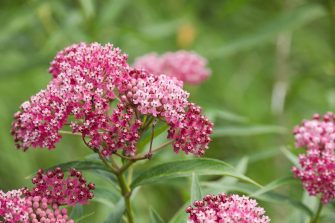 we have what you need
Wildflowers
With options from Black-Eyed Susan that attract song and game birds to four different varieties of Milkweed for butterfly habitat, we have wildflowers for every goal and application.
Shop All Wildflowers